Life-transforming care again now with Your Christmas donation.
Nigeria

Earlier this year, I shared with you that COVID was threatening your help to people suffering leprosy in Nigeria.
The danger was disruption to leprosy-healing Multi-Drug Therapy (MDT) supplies.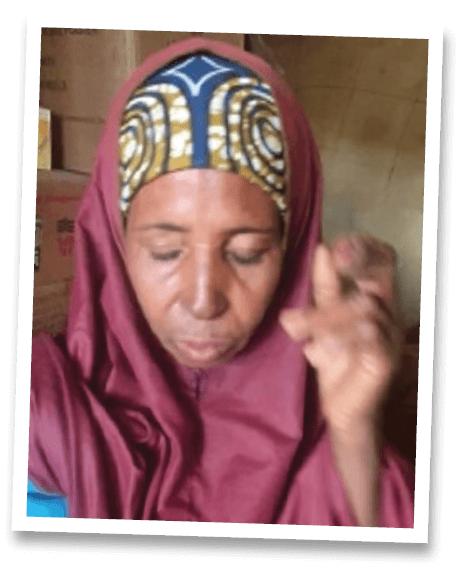 ANSWER TO PRAYER
Knowing your heart for people with leprosy in Nigeria,as we saw with your generous gifts and your understanding of how MDT can bring complete healing in 12 months.
You'll be relieved to know supplies are now restored, thanks to great generosity from Australians like you.(What a powerful answer to prayer!)
This means we can now push ahead to help people like Fatima. She was in tears when she told your front-line team in Nigeria:
"Everything about leprosy is bad.
The ulcers, and the deformity …
I also feel a lot of pain in my body,
and the stigma is something else."
While Fatima has leprosy, you have the love of Jesus.
Your compassion and kindness this Christmas can
stop her suffering, and transform her life.
Your compassion and kindness this Christmas can stop her suffering, and
transform her life.Please send your Christmas donation now!
WASHING FEET
As you know, a critical part of leprosy care is washing feet. This helps protect against infection that can cause damage like you can.
This damage can lead to permanent disability, and disfigurement so severe that friends and family are scared and reject sufferers.
Fatima shared how much that hurt:
"Members of the community make snide remarks at me.
Even worse was when some of my family members also
made such remarks about me, and kept away from me."
You and I know that Jesus welcomed and healed people with leprosy like Fatima.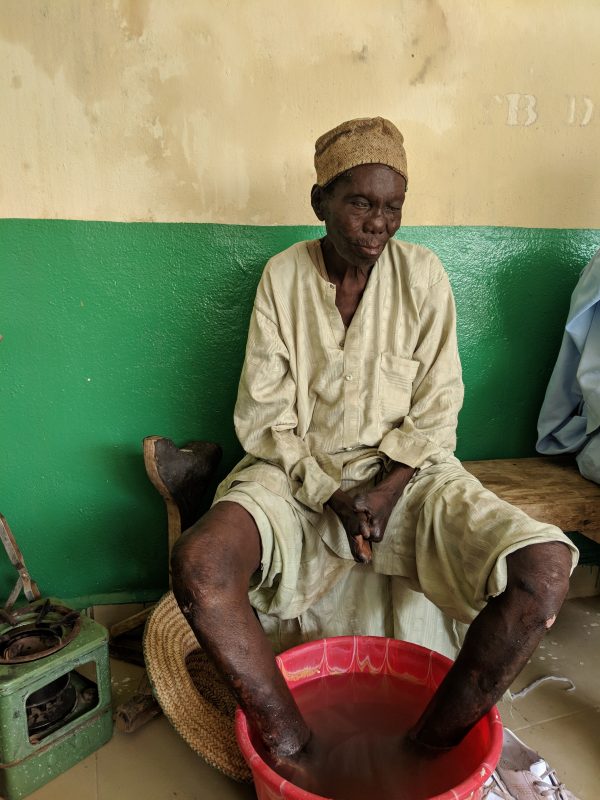 Jesus also got down on hands and knees and washed the filthy feet of His friends.
As He did, Jesus commanded:
"Now that I, your Lord and Teacher,
have washed your feet,
you also should wash
one another's feet.
I have set you an example
that you should do
as I have done for you."
John 13:14,15 (NIV)
Through The Leprosy Mission, you welcome those others reject … and you work hard to serve others to heal leprosy – including humbly washing feet!
Please give this life-transforming care again now with your Christmas donation.
As you give your Christmas gift now, listen to Fatima:
"I am really happy for the people who help me.
I am happy I will be cured of this disease.
I cannot wait for the suffering to be over."
To people like Fatima, you are Jesus.
You offer healing that restores them to life.
You bring joy to the world of people suffering
from leprosy.
Please give your Christmas gift now!




This project aims to increase access to quality leprosy, lymphatic filariasis (LF) and disability services within an integrated health system for communities in Zamfara, Nigeria. The project worked closely with the Nigerian Government's Department of Health to improve health services for people with leprosy and LF, train health workers, and increase access to health clinics at a local level.
The project also works with communities to become more inclusive by breaking the stigma of leprosy and disability. In addition, they help empower people with disabilities to develop good stable livelihoods and become active contributing members of their communities.